Production Manager (KGN)
Production Manager – Kingston 
To manage the production output, set and ensure that products are manufactured in a manner that will meet with client specifications and company's quality standards.
Must be able to operate print equipment
Must have basic Graphic design knowledge
Production scheduling to meet company demands and preparation of production, materials, and manpower requirements.
Oversee work planning, scheduling, and execution of activities to achieve business goals.
Monitor and manage department costs at or below budget targets.
Constantly strive to improve all areas of cost accountability.
Manage production levels to achieve the budgeted cost.
Qualification / Education:
• Degree in Production Management or Industrial Engineering or related field from a recognized/ accredited institution
SKILLS / EXPERIENCE:
At least 5 years production experience
Excellent Leadership Skills
Strong oral and written communication
Good interpersonal skills
Strong organizational, analytical skills
Computer literate with a working knowledge of MS Office Suite
Knowledge of construction would be an assest
PERSONAL CHARACTERISTICS:
– Must be organized
-Detail oriented
• Proactive
> Ability to work without supervision
Have a high degree of tenacity, determination, and persistence to ensure goals are achieved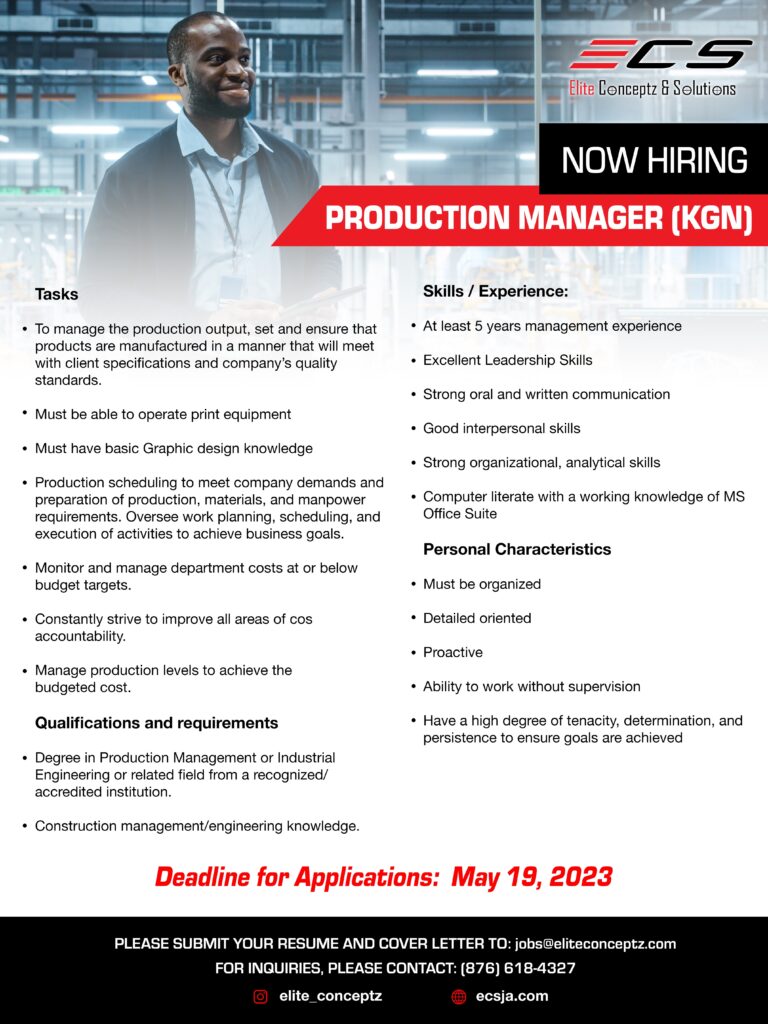 Job Category:
Production Manager
Job Location:
Jamaica
Kingston